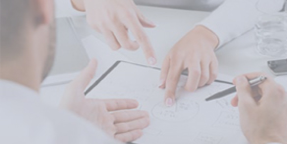 Small, medium and large
PUBLICLY-TRADED CORPORATIONS
operating in various business segments. Working closely with senior officers and staff from the finance, accounting and communications departments, we develop and implement customized financial and corporate communications programs aiming to:
•
promote
the visibility and reputation of the client company with existing and
potential investors through a regular flow of effective communications;
•
foster
a thorough understanding in the marketplace of the company's activities,
growth strategies and financial indicators, as well as its industry's dynamics and
potential;
•
provide
investors with accurate and timely information about the issues,
objectives and procedures pertaining to special situations (mergers/acquisitions,
financing, restructurings, strategic shifts, changes in management, etc.);
•
maintain
contact with financial networks and, according to the company's needs,
broaden and diversify its investor base (in terms of geographic markets and/or
distribution between institutional and individual investors);
•
support
the company in its corporate governance practices and help it comply
with continuous disclosure legislation; and
•
ensure
that its financial and communications programs fit with its overall
communications and take into account the issues and sensibilities of its various
publics (directors, employees, customers, suppliers, local elected representatives,

surrounding communities, etc.).
We also serve
PRIVATELY-HELD CORPORATIONS
that
•
plan a listing on the stock exchange by
way of an initial public offering (IPO) or
reverse takeover (RTO);
•
are working on special projects
(mergers/acquisitions, major
investments, etc.);
•
or simply want to enhance their
corporate documentation and
presentation material.